Description
Do you have these problems?

01. Leakage of the floor is blocked, the floor area is watery, smelly and easy to slip
02. Falling hair causes blockage of drainage and drainage is not good
03. Clogged sewer, cleaning the bathroom and kitchen is difficult
Keep the shower, tub and sink free of debris, without the need to clean the sink filter.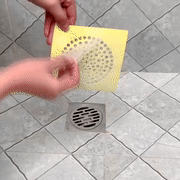 Mesh-like holes around the body filter debris and disperse the water flow into the water.
Dense grid: does not affect efficient drainage when blocked.
Discard when used: does not affect effective drainage when blocked.